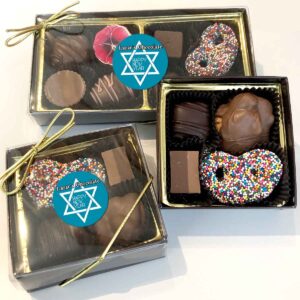 At Lazar's, our Jewish New Year gift box is perfect for celebrating this special occasion. We pack each of these boxes with 3/4 pounds of our delicious, assorted, handcrafted chocolates. Gift them to your friends, coworkers, family members, or even pick one up for yourself. You can never go wrong with treats from Lazar's chocolates.
If you're more into candy than chocolate, we have you covered. Not only do we carry an assortment of chocolates, but we also have a variety of your favorite types of candies. If you're hosting a party, then our assorted candy platter is for you. This platter is available in four different sizes, ranging from small to extra large. And each platter contains a mixture of sour and sweet gummy candies.
In our Jewish New Year gift box, you will find a mixture of nuts, chewies, pretzels, cherries, truffles, and solids. But if you are looking for something more, why not give our New Years' gift set a try. These gift sets come with the same chocolates as our boxes and a whole lot more, including popcorn, mini Oreos, and mini peanut butter cups. And they are available in small, medium and large sizes.
For more information on our Jewish New Year gift box, visit our website or give us a call at 1(516)829-5785. Contact Lazar's today! We will answer any questions you may have.