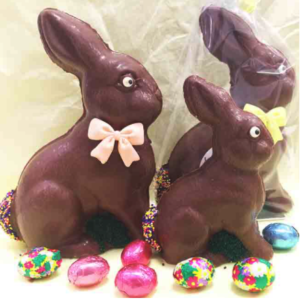 It has become an Easter tradition, the milk chocolate bunny, and at Lazar's, we have various chocolate bunnies to go around. From the traditional sitting bunny to decorated chocolate bunnies, they are also available in white or dark chocolate. There is something for everyone on your Easter list.
Next to Valentine's Day, Easter is the season of chocolates and all things sweet to eat. Kids and adults alike enjoy this holiday not only for the chocolates and candy but for the beautiful spring colors. That is why we make sure we wrap our bulk Easter candies, such as chocolate eggs, in bright spring colors.
If you are looking for a unique milk chocolate bunny, why not consider our giant chocolate bunnies. These chocolate bunnies range in size from 1.25 lbs to 3lbs, and they also come in dark chocolate. But be careful; they are hollow, so we do not recommend having it shipped. Though you decide to have it delivered, we will do our best to make sure it does not get damaged during delivery. 
Suppose you are looking for something other than a milk chocolate bunny. If that's the case, we have other delicious goodies, such as jelly beans, malted chocolate eggs, chocolate-covered marshmallow peeps and plenty more. For more information on all of our products, visit our website or give us a call at 1(516)829-5785. We will answer any questions you may have.