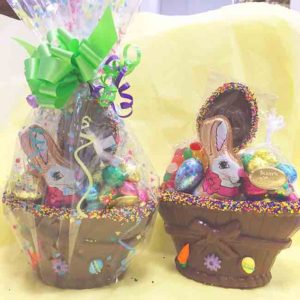 Mini Easter gift bags are a small but sweet way to treat the ones you love. They are perfect for friends, family and coworkers. Each of these bags contains a variety of traditional Easter treats like chocolate bunnies, eggs, jelly beans, crispy malted eggs and more. Each of these bags comes wrapped with a ribbon and fancy bow. 
Easter usually means large dinners with family and friends. So, consider one of our platters if you want something to wow your guests. Each of these platters comes in an assortment of chocolates, candy, chocolate-covered pretzels, chocolate, fruit and nuts, and one platter even comes with a bit of everything. Not only are they sweet, but they also make great centerpieces. They also guarantee that everyone will get something they love. Sizes range from small to extra large. 
If mini Easter bags are just a little too small for you, we have a few more gift ideas in mind. There is a chocolate Easter bag filled with chocolate eggs, one with chocolate pretzels, a box with many Easter treats, and traditional Easter baskets. All of our chocolates are handmade right here in our store. 
For more information on our mini Easter gift bags and other treats, visit our website or call (516)829-5785. We will answer any questions you may have. And from our family to yours, have a happy Easter.