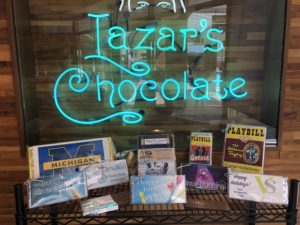 We strive to be the best store to buy New York chocolate at Lazar's. All of our products are handcrafted by a fourth-generation family of chocolatiers. There is something for everyone at our stores, from milk chocolates to dark chocolates and everything in between. We also carry products for all types of holidays.
Our chocolates, chocolate products, and candies make the perfect gift for any occasion, whether you are looking for party, wedding, or shower favors, or you want to give that special someone the perfect gift. Our gift baskets and platters are just what the sweet lover in your life needs. If you have someone who loves all things candy, why not try our candy platter? Do you have someone who likes a bit of savory with their sweet? Our mixed fruit, nut, and chocolate platters are the perfect gift for them.
If you are a new customer, you're probably wondering where you can get our New York chocolate. We have two store locations, one in Great Neck and another in Greenvale, located in the Wheatley Plaza. Can't make it out to one of our physical stores? No problem, we can also deliver to pretty much anywhere!
For more information on our New York chocolate and how to place an order, visit our website or call us at 516-829-5785. We will answer any questions you may have.