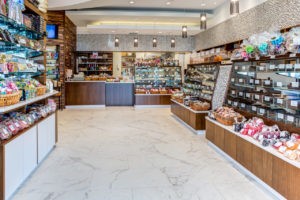 One place should come to mind when you think of NY chocolate shops. Lazar's Chocolate. We are a fourth-generation family of chocolatiers with stores located in Great Neck and Greenvale. And if you can't make it out to one of those locations, we also offer to ship to almost anywhere. Shipping costs vary between destinations and an additional ice pack fee for warm climates and seasons.
At Lazar's, we have chocolates for all occasions, whether you're having a bridal or baby shower and need party favors, looking for that perfect gift, hosting a party and need something to wow your guests or just wanting to treat yourself. We have something for everyone. Our handicapped chocolates are famous and a customer favorite.
We consider ourselves one of the best NY chocolate shops. Not only because we are family owned and operated but because of our creativity and inclusiveness when it comes to the holidays. We try and create special treats for all faith holidays. We also try to cater to dietary needs by offering sugar, nut and kosher-free treats. And if chocolate isn't quite your thing, we carry a variety of sour and sweet candies.
For more information on our NY chocolate shops, such as locations, visit our website or call us at (516)829-5785. We will answer any questions you may have. Contact Lazar's today.