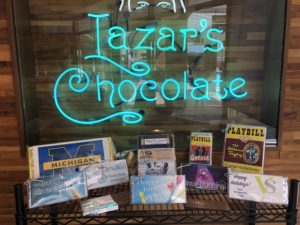 At Lazar's, we make it easier to order chocolate. Whether you are buying for a single person or a special occasion such as a wedding or corporate event, we've got you covered, but we don't only carry chocolate. We also have a large selection of hard and soft candies and dried fruit and nuts. 
Nothing says the holidays like indulging in some sweet treats. After all, it's what makes the holiday season great. We love celebrating the holidays; it's a chance for us to show off our creative sides when designing sweets related to the occasions. And since we know that not everyone celebrates the same holidays, we like to make everyone feel included. That is why we carry treats for a variety of holidays. 
To order chocolate, you can visit our website and check out the many different sweets that we carry. You can choose how much you want and indicate what the occasion is if there is one. If you are thinking about party favors, we offer customization options for the boxes. Such as the color of the box and ribbons, whether you wanted it printed or not, and what truffle you want in it. It's that easy, and we ship to almost anywhere.
For more information on how to order chocolate, give us a call at 1(516)829-5785. We will answer any questions you may have. Contact Lazar's today.