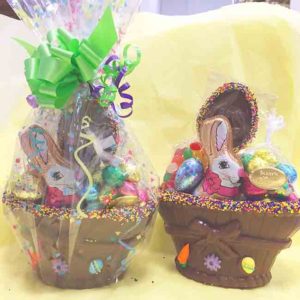 At Lazar's, our chocolate Easter gift sets are perfect for anyone who enjoys sweet treats. These sets come with various chocolate and candy, including foil-wrapped bunnies, chocolate eggs, jelly beans and more. And the best part of this gift set is no more messy grass or wicker. All chocolate is handmade and packaged with care right in our store. 
Easter isn't the only holiday we are celebrating this month. We also have created delicious treats for Passover. These goodies include chocolate Passover frogs, seder plates, a Star of David pop, jelly fruit slices and more. Though we try to use only Kosher ingredients, not all our products are certified. We recommend our chocolate, fruit and nut platter. If Kosher products are not a concern and you're looking for a mixture of treats for your Passover celebration. 
Our chocolate Easter gift sets come in different sizes. They range from small to jumbo. The bigger the size, the more treats you will receive. And if you're looking for something more traditional, we also carry Easter gift baskets. And like our gift sets, they come in different sizes. Colors, patterns and handles will vary depending on availability. But each basket has the same variety of treats as the gift sets. 
For more information on chocolate Easter gift sets or our Passover treats, visit our website or call (516)829-5785. We will answer any questions you may have.