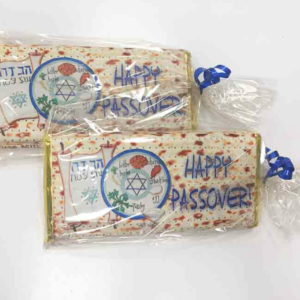 If you're looking for high-quality Passover chocolate bars, then Lazar's is the place for you. These products are made with Kosher products and are available in various options such as 5-ounce chocolate bars, chocolate-covered macaroons, Passover frogs, and much more. We have something for everyone. Celebrate your Passover with chocolates from Lazars.
Equality is important to us, and that is why we try and cater to all faiths. We believe that everyone should enjoy our products, so we create different shapes and designs for various holidays. Celebrate your memorable holiday with chocolates from Lazars, and if there is something we don't have, send us a message, and we'll see what we can do.
If Passover chocolate bars aren't quite what you're looking for, why give our jelly slices or fruit and nut trays a try. And if candy is where it's at, we have you covered. There is a large selection of candy available in our stores, from gummy treats to sours and even jelly beans and licorice. It's a candy lover's dream. But if you have your heart set on chocolate for your Passover celebration, then you will enjoy our delicious Kosher-free chocolates.
For more information on our Passover chocolate bars, visit our website, or give us a call at 1(516)829-5785. We will answer any questions you may have. Contact Lazar's today!