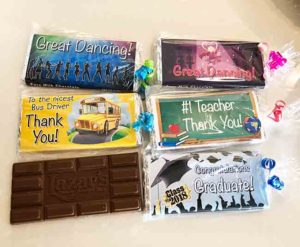 At Lazar's, our personalized graduation chocolate bars are the perfect way to celebrate your graduate's accomplishments. No matter what level of education they are graduating from, treat them with their customized bar of chocolate, complete with their name on it. These chocolate bars are guaranteed to put a smile on your graduate's face.
If chocolate isn't quite your graduate's thing, we have many other options for you, such as a gift platter or gift basket of assorted candies. However, if you are looking for something more than just a chocolate bar, we also have various chocolate-covered treats. We may not be able to customize them like our chocolates, but who can resist an assortment of gummy, licorice, and sour candies?
Ordering a personalized chocolate bar is easy. Simply visit our website, type in graduation chocolate bar in the search bar, and school down the list until you find 'graduation.' Once you've found the link, click on it, find the personalized graduation chocolate bar picture, and select it. Then you choose the chocolate of your choice and the size, add your graduate's name, and then you're done.
While you are looking at our personalized graduation chocolate bars, check out our many other treats. You might even find something for yourself. For more information on any of our products, visit our website or give us a call at 1(516)829-5785. We will answer any questions you may have. Contact Lazar's today!