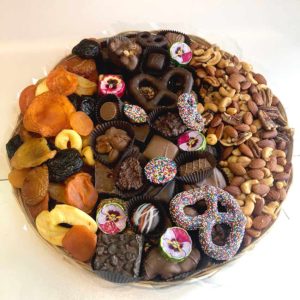 A platter of assorted chocolates is excellent for any occasion, whether you're hosting a big event, attending as a guest, giving them as a present, or you want to enjoy a mixture of chocolates to yourself. There is no right way to enjoy our delicious handmade chocolates.
For as long as anyone can remember, chocolates have been given away to celebrate many occasions such as holidays, bridal and baby showers, graduations, first dates, and more. At Lazar's, we cater to all of those events. And we want everyone to feel included. That is why we try and have themed chocolates for every religious holiday. Not only are religions important to us, so are specific dietary needs. We carry a variety of nut, sugar, and kosher-free products.
So, what do you get in a platter of assorted chocolates? You get to choose from as little as 1.5 to as much as 10 lbs of chocolate, and you have the option of having a mixture of dark and milk chocolates or just milk or dark. These platters come with various chocolate-covered nuts, marshmallows, pretzels, truffles, fruits, caramels, solid candies, foils, and more.
For more information on our platter of assorted chocolates and how to place an order, visit our website or give us a call at 1(516) 829-5785. We will answer any questions you may have.