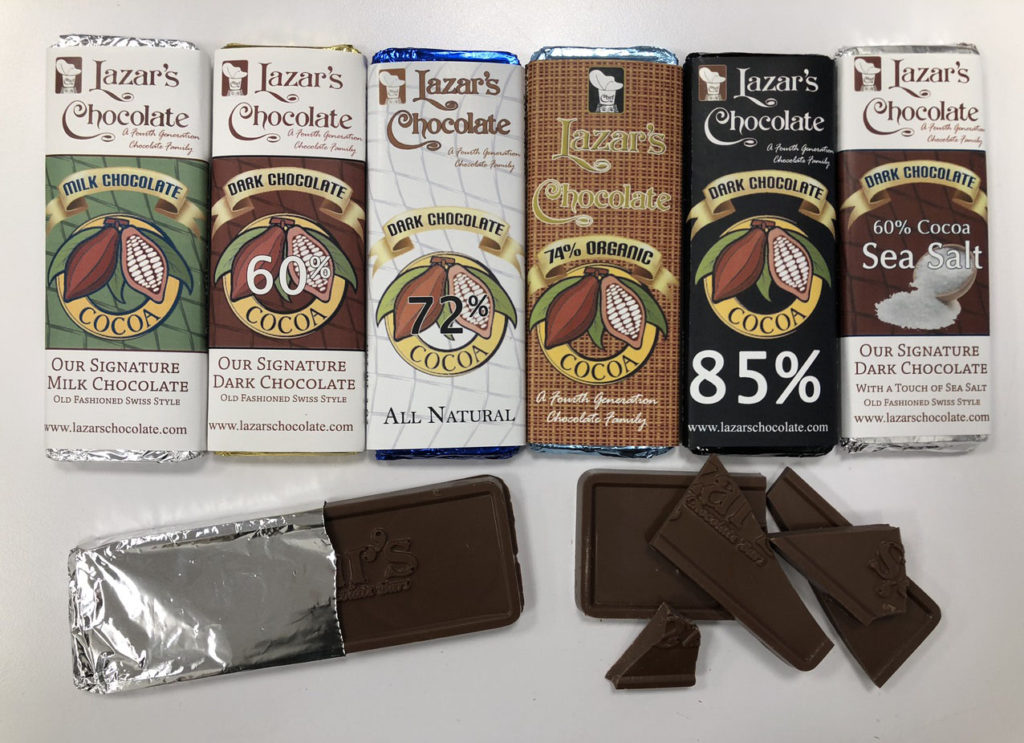 Who doesn't love signature chocolate bars? These nicely wrapped, solid pieces of deliciousness can turn a bad day into a better one! At Lazar's, our chocolate bars come in 3-ounce and 8-ounce packages. They range from milk chocolate to 85% dark chocolate.
Dark chocolate has many health benefits like reducing the risk of heart disease, lowering blood pressure and cholesterol. Dark chocolate can even help improve brain function and lower the risk of Alzheimer's disease. Can you think of a better reason for eating chocolate, other than for the taste? 
If you are looking to try a signature chocolate bar with a unique taste of savory and sweet, try our dark chocolate with a touch of sea salt. It will satisfy any salty and sweet craving. If sea salt and dark chocolate are not your ideal combination in a chocolate bar, we also carry traditional Milk Chocolate. For those looking for a smooth but bitter taste, try our 85% Cocoa Dark Chocolate; this dark chocolate pairs very well with coffee! 
There are no golden tickets in our signature chocolate bars, only high-quality chocolate made by a family of chocolatiers. If you would like to visit our shop, we have two locations to serve you; one in Greenvale and one in Great Neck. You can also visit us online or give us a call at (516) 829-5785. We will answer any questions you might have!