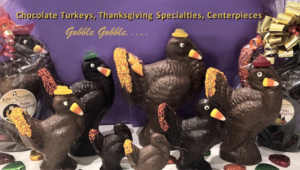 If you are looking for Thanksgiving chocolate to brighten the holiday, then Lazar's has got you covered. We have various festive-themed treats, such as beautiful centerpieces, individually wrapped chocolates that would go great in a basket, and, of course, turkey-shaped mini chocolates. And for added fun, we also have chocolate turkey pops. Perfect for the kids and the kids at heart. 
With the holiday season approaching, many businesses are more than likely trying to find a way to thank their staff. We believe that chocolate is always a good start as you can never go wrong with it, but for those who don't like chocolate, we also carry a selection of soft and hard candies. So if you are thinking sweets, think Lazar's Chocolates. 
Thanksgiving chocolate isn't the only festive theme we do. Most often, we have themed goodies for all the major holidays. With our next themes being Christmas and Chanukah, we love celebrating the holiday seasons and want everyone to feel included. That is why we carry themed chocolates for all faiths. 
To see a full this of our Thanksgiving chocolate and the many more sweet treats we offer, visit our website. You can also place an online order, and we will ship it to just about anywhere. For any information, give us a call at 1(516)829-5785. We will answer any questions you may have. Contact Lazar's today!