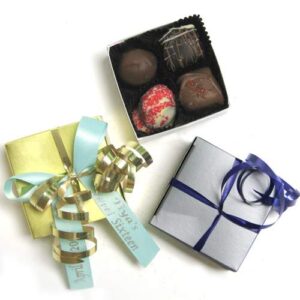 With Valentine's fast approaching, consider a truffles gift box to give to that special someone in your life. And for Valentine's, we have designed a heart-shaped box with hazelnut truffles and milk and dark heart-shaped chocolates. But if you're looking for something more, try our 25 pack of assorted truffles.
Valentine's Day is the best time to be in the chocolate and candy business. We enjoy making treats for every holiday. At Lazar's Chocolate, we have a variety of different Valentine-themed treats that will surely make anyone's Valentine's. But it's not the only holiday we create treats for. Stay tuned for more upcoming goodies.
If you're looking for something more, try our fancy truffles gift box. This gift box is perfect for any chocolate lover looking to try something new. These boxes come with fifteen different truffles, including chocolate, raspberry, Champagne, Grand Marnier, Espresso, and more. But if truffles aren't your thing, we carry a variety of other chocolates and other sweets for you to try, from hand-dipped chocolates to chocolate-covered popcorn and pretzels and everything in between. We also have a variety of sweet and sour candies that will satisfy any candy lover.
For more information on our truffles gift box and other products, visit our website or give us a call at (516)829-5785. We will answer any questions you may have. Contact Lazar's today!