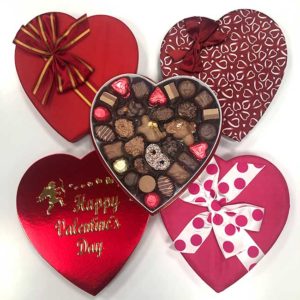 If you need Valentine's Day chocolate for that special someone in your life, then Lazar's has you covered. We carry a variety of Valentine-themed chocolate for all ages, whether it's for a spouse, children, teacher, or friend. There is something for everyone, from traditional boxed chocolates to chocolate-covered roses and even jelly hearts.
You don't have to wait for a holiday to enjoy chocolates or other sweet treats. Everyone can consume chocolate and candy whenever they want, have a bad day at work? Sweets will make things better. Your little one had a good week at school? Why not treat them with something sweet, like something from our many candy and chocolate selections. Make someone's day special with a delicious treat from Lazars.
Our Valentine's Day chocolate, like our other chocolates, comes in dark and milk chocolate. Including 72% dark chocolate. Did you know that dark chocolate is beneficial for your heart health? How fitting? Healthy Chocolate for a day that celebrates hearts. But if chocolate isn't their thing, why not give them some cherry jelly or juju hearts? Available in 3/4 pound to five-pound bags.
For more information on our Valentine's Day chocolate or to place an order, visit our website. Or give us a call at (516)829-5785. We will answer any questions you may have. Contact Lazar's today.