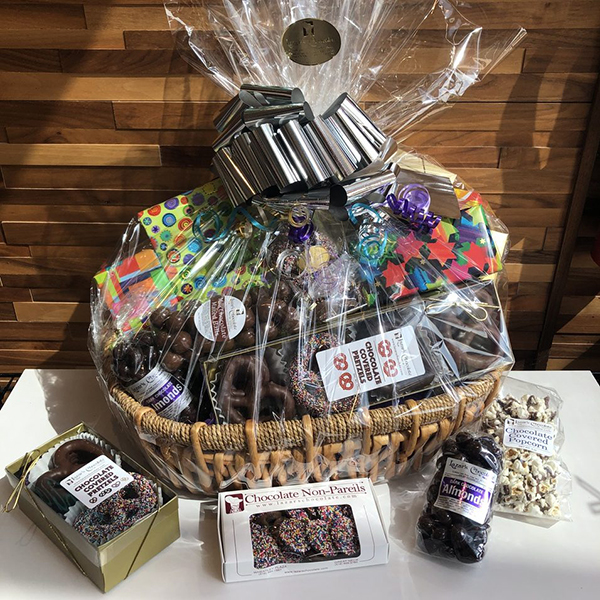 Our chocolate baskets can make a perfect gift or a way to thank someone for a job well done, each of our six sized baskets contains an assortment of our delicious handmade chocolates. As the basket size increases, so do the variety of chocolates. These baskets are perfect for any occasion, large or small, personal or corporate.
Each basket starts with a box of assorted chocolates, milk and dark chocolate covered raisins, chocolate covered pretzels, and milk or dark chocolate covered malt balls. But as the size increases, more chocolates are added. They are, chocolate-covered popcorn, filled and assorted truffles, chocolate covered graham crackers and chocolate-covered marshmallows.
Chocolate baskets are guaranteed to way to put a smile on someone's face, who wouldn't want to get a basket filled with handmade chocolates? These baskets can also be customized to fit the occasion.
If you are thinking of sending chocolate baskets, but don't know which to choose, you can always visit our website for more information. From there you will see the different sizes, the price ranges and ordering information. While you are there, you can also see the other products that we carry, such as party platters and favors, gift boxes and signature chocolate bars and more. For more information about any of our products, give us a call at (516)829-5785. We will answer any questions you may have.