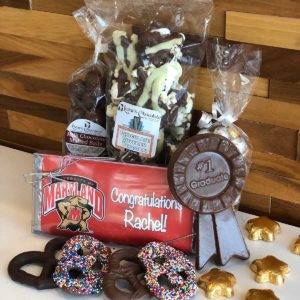 It's that time of year again, time for graduation chocolate to celebrate your kids' greatest accomplishments. Whether they're graduating from elementary school, high school, college, or university, chocolate is one of the many ways you can show them how proud you are. And at Lazar's Chocolates, we have many treats for your graduate.
Chocolates have always been a go-to gift for any occasion, from holidays to birthdays, Mother's Day, Father's Day, and even given as favors for weddings and showers. As a fourth-generation chocolate family, we take pride in all of our products. Each one of them is hand-crafted with care and only made with the finest ingredients. Most are available in milk, white, dark, 72%, and 80% dark chocolate. And if chocolate isn't quite your thing, we also carry a variety of other sweets such as candy and licorice.
Our graduation chocolates come in a variety of options, such as roses, tulips, and ribbons. We also carry personalized chocolate bars available in 8 or 16 ounces and milk or dark and can be customized with the student's name or the college they are graduating from. If you want to go all out for your grad, we also offer graduation gift packages.
For more information on our graduation chocolate, visit our website or give us a call at 1(516)829-5785. We will answer any questions you may have. Contact Lazar's today.